Samantha & Matt: Deep Creek Lake Sunrise Elopement
When Samantha started crying the first moment of the ceremony, I knew we were doing a good thing…and the right thing for she and Matt.
It all started back in September when Samantha emailed me about having an elopement on the shoreline of Deep Creek Lake. It was a dream for her! She and her family had spent many days at the lake when she was a young girl and she just knew this is where she and Matt should marry.
But she lives in Tennessee, so I went on a quest to get her the exact shoreline location she wanted! Even though that didn't pan out, we found the very next perfect spot…a private lakefront space in the same cove so graciously offered by two people I connected with in a Deep Creek Facebook group.
So we all met at 7:30am on a Sunday morning in October. (Because Samantha and Matt were only in town for one night and their flight back to Tennessee left from Pittsburgh that afternoon.) It was 34 degrees, the sun was shining and we had the lake to ourselves. Samantha had a bouquet made locally, my friend Elizabeth would officiate and our new friends and owners of the lakefront spot Lesli and Jessica were dubbed "ceremony security" so we could have a truly uninterrupted, private event.
Guys, this was a magical morning. The bringing together of this small group of people…a couple from Tennessee, two new and very kind residents of Garrett County, and myself and Elizabeth who are so passionate and excited about the weddings in our area. It's hard to describe the quiet thrill that filled this morning but goodness gracious it made me ten times more grateful for this area and its people, the amazing weddings that are happening here and the power that Deep Creek has to bring people together…
This is the exact vision I was hopeful for. A quiet lake, colorful trees and steam rolling off the top of the water…
I brought along this quilt for them to warm up in…along with hot apple cider for them to enjoy as a quick celebratory drink after the ceremony!
Then we walked right into portrait time…and Samantha, covered in goosebumps, continued to be a trooper in the chilly temperatures. But we kept things quick and were able to snag a lot of really great portraits in under 15 minutes…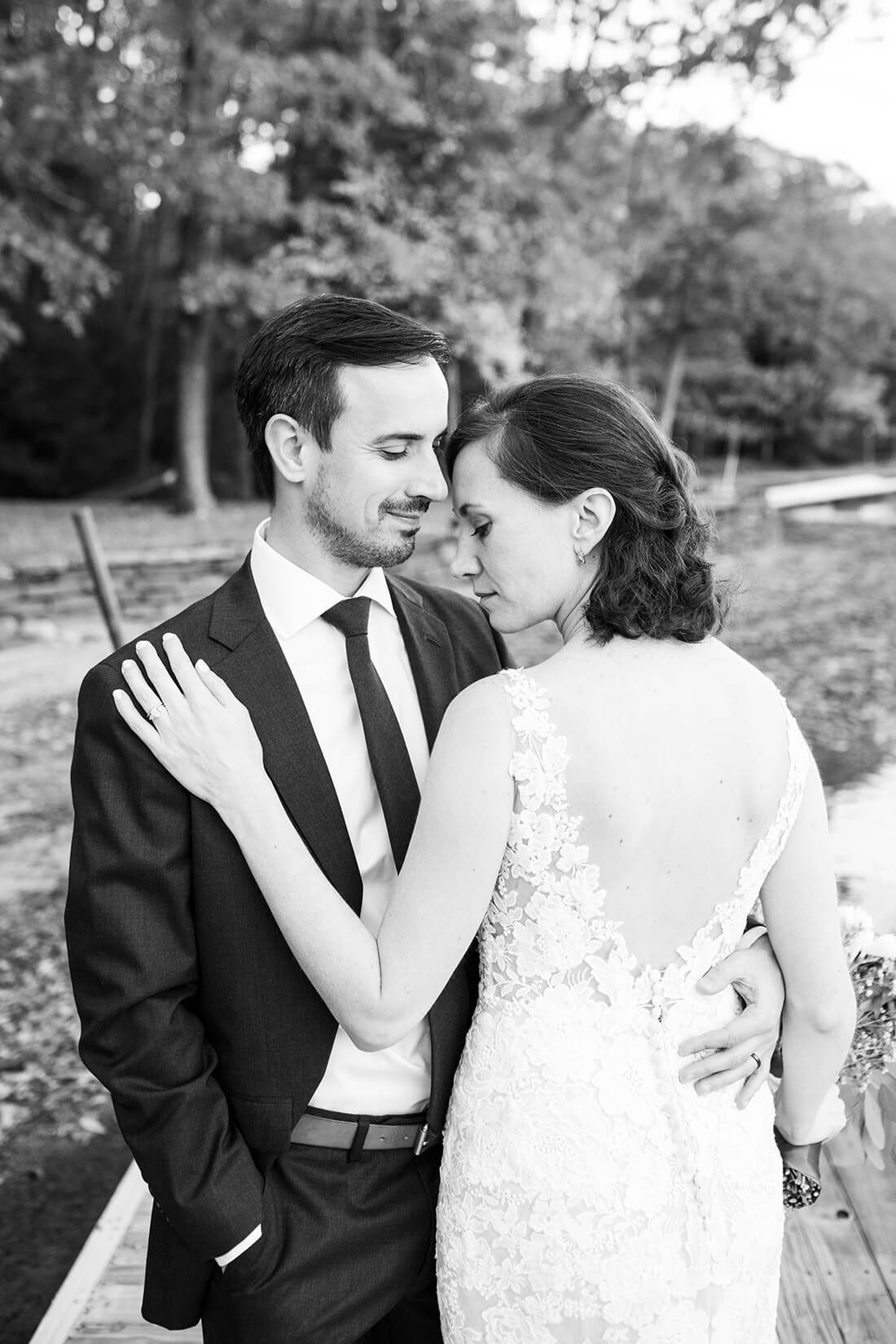 I love the way Samantha's dress lay on the dock…
And then Samantha added a scarf! She said she loves scarves and always finds reason to wear them. She's my kind of girl. 🙂
YAY! Married!
And of course, some ring shots…
I actually took this ring shot on top of the
Deep Creek Pottery
Deep Creek Lake mug I brought for them to enjoy the hot apple cider. It's one of my favorite pictures from the morning!
A few more moments enjoying the view and the scene…
One of the coolest things about this sunrise elopement was the conversation, connection and generosity that continued with our small group after the ceremony and portrait time. Our lakefront hosts Lesli and Jessica told Samantha and Matt that the lakefront spot was now their lakefront spot and that they could come back and visit anytime they wanted. Jessica even offered them a boat ride when they return and Samantha started to tear up. She said riding on the boat was one of her most favorite things to do at Deep Creek. 
Gosh, don't you just love this story!?! Deep Creek is a special place, my friends. And I am so happy we were able to make this happen for Samantha and Matt! They eloped on October 18th of this year but just told their families this past Wednesday. So I waited until now to share their pictures and story. 🙂